When to use chicken bone broth powder:

Morning
Drink with breakfast for sustained energy and hydration throughout your day.

Evening
Relax with bone broth before bed. Amino acids like glycine help you sleep.

Gut Health
Drink with your meals to aid digestion and rebuild your gut health.

Aches & Pain
Drink before you rehab to help hydrate your cartilage and decrease pain.

Exercise
Before you exercise or workout for stronger joints and tendons.
Convenient Powdered Chicken Bone Broth
It took years to crack the code. Finally we're able to make a powdered chicken bone broth that mixes properly, is easily digestible and feels like real chicken bone broth! No gums, fillers or 'natural flavors' that you'll find in other products.
Glowing Skin and Sustained Energy
Bone Broth Powder has all the same benefits as liquid bone broth, without the hassle. It also completely replaces your collagen and electrolyte supplements thanks so hydrating electrolytes like potassium (300 mg) magnesium, phosphorous and chloride.
Reduces Indigestion, Builds a Healthy Gut
10 scoops per week to decrease inflammation and nourish your gut. It's full of amino acids like glycine, proline and glucosamine to improve your digestion and gut health. 10 scoops per week is all you need.
See why our guests love Chicken Bone Broth Protein Powder
"I tastes great and dissolves easily! I drink it before bed and have been sleeping like a baby :)"

Laurie R.
Verified Buyer


04/06/2023
"I drink a cup in the morning and have noticed better digestion and sleep has been amazing!"

JoAnn C.
Verified Buyer


04/09/2023
"In the months that I've been drinking it, my pain levels have gone down tremendously. Skin, hair, teeh and nails are healthier.
HB B.
Verified Buyer


03/31/2023
12 g per serving (2 tbsp)
Chicken Bone Broth (Water, Chicken Bones). That's it!





How to Use Low Sodium Bone Broth Powder
Our powdered chicken bone broth is rich and delicious.
It is perfect to sip on its own or as an addition to your favorite recipes.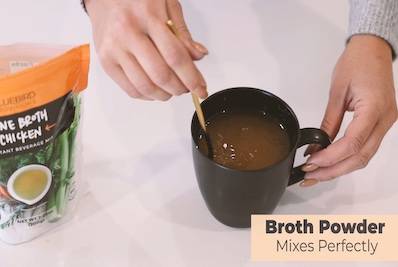 Your convenient source of bone broth protein.
1: Add 2 TBSP powder to your mug
2: Pour a cup of boiling water over the powder
3: Stir for 15-30 seconds until smooth
4: Leave your mug for 1 minute to allow powder to settle
5: Add your mix-ins like salt, coconut oil, etc.
Due to the unique protein in bone broth, tiny bits of powder may remain ontop of your broth after you mix it. This is completely natural.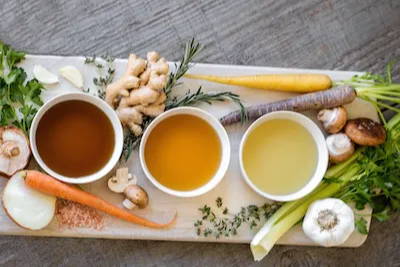 Add bone broth to anything that you are cooking.
Chicken bone broth makes for the perfect soup base.
You can add it to pasta sauces, salad dressings use
it in stir frys or to steam vegetables.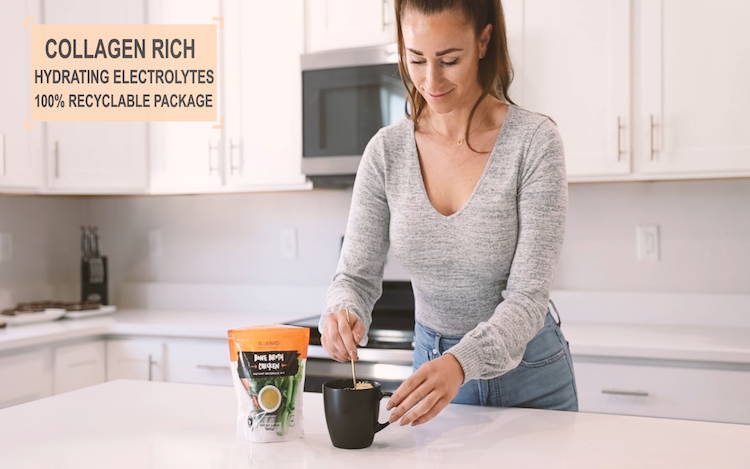 You're in control of your bone broth. Order one pouch or set up a subscription to invest now in your long-term health. Subscribers enjoy a 10% discount and automatic delivery every time you need a refill.
A subscription is the best way to build a healthy habit. Of course, you can cancel any time.
✓ Gently Dehyrated Chicken Bone Broth
✓ No Yeast Extract, Fillers or Natural Flavors
✓ Sustainable + 100% Recyclable Packaging
✓ Slow Simmer

✓ Only Pasture Rasied Bones, No Concentrates


How we Make Chicken Bone Broth Powder

Liquid to Bone Broth Powder
We take our chicken bone broth and gently dehydrate it to remove all the liquid. The result is a golden, low sodium broth powder with a delicious and rich chicken taste.

Our broth is made with love in small batches through a slow simmer. This ensures all the collagen minerals and amino acids are in the bone broth powder.
No junk filler ingredients, yeast extract, natural flavors, gums or artificial sweeteners. Naturally low in allergens and suitable for all diets.
100% NO-RISK MONEY BACK GUARANTEE
Don't like it after 60 days? Get a full refund.
My Journey to Make the Best Bone Broth


Born out of the kitchen of an elite ultramarathon runner, Bluebird Provisions began as I sought out unconventional ways to fix a debilitating foot injury.
I stumbled across bone broth while looking for collagen sources during rehab. I researched how to make the highest protein bone broth possible.
Ultimately, I used bone broth to heal a ruptured foot tendon and get back to winning ultra marathons. Now my mission is to make the best bone broth to help you move and feel better.

-Connor, Founder at Bluebird Provisions
Frequently Asked Questions
When does it ship? When will I receive it?
USA orders ship in 1 business day. Ship transit time is between 2-5 days.
Canada orders ship every Tuesday or a given week. Ship transit time is 1-2 days. Order cut-off for same week shipping in Canada is Monday at 1pm PST.
What size is your packaging?
Instant Bone Broth Powder (Chicken): 200 g (Makes 15 servings). Pack size is 6x8 inches (WxH)
Instant Bone Broth Powder:
Our Instant Bone Broth Powder has a 2 year shelf life if kept at room temperature in a dry location. We recommend storing in your pantry at 20 degrees celsius.
What ingredients are in your bone broth
Dehydrated chicken Bone Broth (water, chicken bones)
Where are your bones sourced from?
We're committed to sourcing the highest quality ingredients that money can buy.
All of our chicken bones come from pasture raised, non-gmo chicken from Canada and the USA. These are no cage-bound chickens. Quite the opposite. They are raised on pasture where they have plenty of space to roam at their hearts content.
Is your packaging recyclable?
Our instant bone broth packaging is 100% recyclable. It is the first and only bone broth in a recyclable zip pouch.
Our frozen bone broth pouches are the most environmentally sustainable packaging option. Less than 5% of the environmental impact of packaging is found in the final disposal stage. Over 95% of the damage is attributed to the energy used and toxins created in the manufacturing and delivery of packaging. The lightest packages produce the least environmental waste. This is where the biggest net environmental impact is.
What's your shipping cost?
USA: Orders ship within 1 business day of your order. Check your email for tracking numbers. Orders can take 3-5 business days to arrive.
Canada: We ship overnight to your home. Our shipping days are Tuesdays of a given week. Order cut off for same week shipping is Monday at 1pm PST. If you miss the cut-off, your order will ship the following Tuesday. Read our shipping policy for details.
USA Rates:
1 to 3 pack: $5.99
4 pouches or more: FREE
Canada Rates
1 to 3 pack: $6.99
4 pouches or more: FREE
Maritime Provinces in Canada
1 to 3 pack: $8.99
4 pack: FREE
What if I'm not satisfied with your bone broth
There's no risk to you. That is how confident we are that you will enjoy our bone broth. If you're not happy with your experience after 60 days, we will refund your order. See all the details and instructions in our 60 day money back guarantee page.
How long after opening the bag must it be used?
The pouch is good until the best before date on the back of each pouch as long as you store it at around 21 degrees celsius or 70 F in a dark location.
Does powder need fridge after opening
No you do not need to refrigerate. Simply keep it in a cool, dry location like a pantry after opening.
How long do you simmer the bone broth?
The chicken bone broth is simmered at a low heat for 16-24 hours.
How much collagen in one serving?
There are 10 grams of collagen protein per serving.
How many servings are in this pouch / bag?
There are 15 servings or cups of bone broth per pouch.
How much sodium per serving?
This is a low sodium bone broth with 130 mg of sodium per serving. This works out to 6% of your recommended daily intake. There is no added salt.
Do you test for heavy metals?
Yes we do test and the levels come back ND (non-detected).